Our Office
Welcome to our office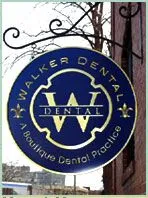 Dr. Walker and his friendly team are pleased to introduce you to our boutique dental practice. Your need for healthy teeth and gums is our main focus. Dr. Walker is known for using an advanced approach in treating each patient with individualized care, knowing that there are different wants and needs for each one of his patients. Dr. Walker plans your treatment to achieve optimum dental health. His expertise in "restoring" teeth allows strong, long lasting solutions. Rather than simply "filling" teeth, he restores teeth to their natural beauty and strength.
A standard of excellence in personalized dental care enables us to provide the quality dental services our patients deserve. Our hygiene team has gone through extensive training to provide our patients with gentle yet thorough cleanings utilizing the latest in ultrasonic technology to improve and maintain your oral health.
As a practice, we truly believe that preventative care and education are the keys to optimal dental health.
We provide free parking at The Charles Hotel or University Place Garage.
We thank you for allowing us to take care of your dental needs and look forward to serving you.
Walker Dental
60 Brattle Street , Suite 101
Cambridge, MA 02138
Phone: (617) 354-3351
Fax: (617) 661-6620 fax
Office Hours
Monday: 8:00am- 4:00pm
Tuesday: 8:00am- 6:00pm
Wednesday: 8:00am-1:00pm
Thursday: 8:00am- 6:00pm
Friday: 8:00am- 1:00pm (closed July and August)
Saturday: Closed
Sunday: Closed
Appointments
We know you have many choices when choosing a Dentist in Cambridge , MA so we have made requesting an appointment a simple process via our Web site. If, for any reason you cannot keep a scheduled appointment, or will be delayed, please call us as soon as possible.

Insurance and Billing
We accept most traditional insurance plans, contact our office to verify acceptance of your plan. Walker Dental does not participate in Health Management Organizations; however, we will be happy to file your insurance claims for you. We accept checks, cash or credit cards. We also offer a flexible payment plan. Please see our Financial Coordinator for details. We are happy to file insurance for your reimbursement as long as you are free to choose your own dentist.