Can A Dentist Help Treat Sleep Apnea?
posted: Feb. 17, 2013.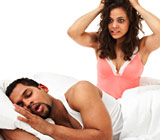 Research has revealed that over 12 million Americans suffer from Obstructive Sleep Apnea (OSA), a condition that occurs when the upper airway (tissues at the back of the mouth and throat) collapse causing significant airflow disruption or even no airflow whatsoever for 10 seconds or more. It can leave you feeling tired, depressed, irritable, as well as cause memory loss and poor concentration. But, did you know that we can help treat your sleep apnea?
The primary method dentists who are trained in sleep medicine use to treat OSA is through the use of an oral appliance. Similar in look to an orthodontic retainer or sports mouthguard, oral appliances are designed to maintain an opened, unobstructed, upper airway during sleep. And while there are many different oral appliances available in the marketplace, less than 20 have been approved through the FDA (Food and Drug Administration) for treating sleep apnea. The key to success is to avoid those over-the-counter (OTC), generic mouthguards and instead use a professionally made and custom-fitted oral appliance, made from a precise models of your teeth and mouth. They are best at keeping your airway open and preventing the muscles and soft tissues from sagging down when relaxed during sleep. Other advantages of custom-fit oral appliances are that they can reposition your lower jaw, tongue, soft palate and uvula (the tissue in the back of the throat that dangles like a punching bag); stabilize your lower jaw and tongue; and increase the muscle tone of your tongue.
But Is Treatment Really That Important?
Absolutely! If undiagnosed and/or left untreated, sleep apnea can be life threatening. It can cause heart attacks, strokes, impotence, irregular heartbeat, high blood pressure, and heart disease — many of which can kill you.
Want To Learn More?
To learn more about sleep apnea, read the Dear Doctor article, "Snoring & Sleep Apnea." Or if you are ready for a thorough examination and to discuss your snoring, contact us today to schedule an appointment.
Tags: oral health,&nbsp common symptoms,&nbsp snoring and sleep apnea